Shimadzu GC Driver for Chromeleon™ 7 - Features
Control of New Space-Saving and Highly Reliable AOC-30 Autoinjectors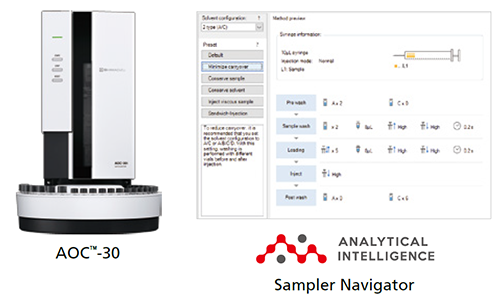 AOC-30 systems support automatic analysis of up to 30 samples using a single tower. In combination with a GC-2030 system, the design results in a space-saving system only 553 mm wide. 4 mL bottles of up to four types of rinse solvents can be loaded for enhanced rinsing functionality that maintains high analytical performance for long periods. The analytical method editing window features the Sample Navigator. With Sample Navigator, methods prepared by experts in GC can be created with a single click. Systems can be expanded to hold up to 150 samples and 12 rinse solvent bottles by adding samplers to accommodate increased analytical capacity.
Allows Liquid Analysis and Headspace Analysis on a Single GC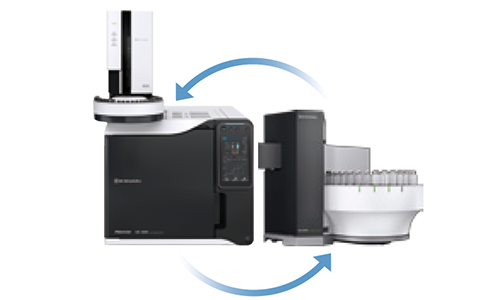 In addition to standard liquid analysis using an AOC-30i autoinjector, the following types of analysis are also possible.
・Simultaneous analysis via two lines using a dual injection system
・Switching between liquid and headspace analysis for continuous analysis by installing both AOC-30i and HS-20 (NX) units
This optimal sample injection system helps maximize analytical productivity.
Minimizes Helium Gas Usage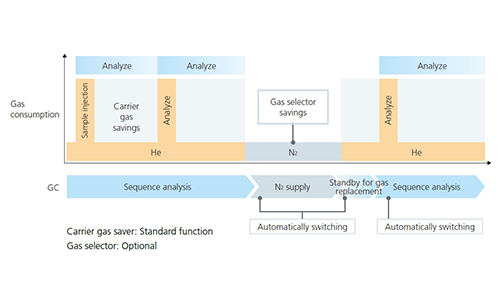 By installing an optional Gas Selector in the GC-2030 system, the analytical method or Chromeleon window operations can be used to switch between carrier gases. That means helium consumption can be minimized by switching to a substitute carrier gas after sequencing analysis is finished.