UV-VIS spectrophotometer achieves a resolution of 1 nm, the highest in its class, in a compact design.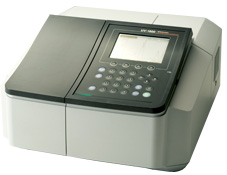 Designed in accordance with the governing Japaneseand European Pharmacopoeia, the new UV-1800 UV-VISspectrophotometer achieves a resolution of 1 nm, the highestin its class, in a compact design.
Offering an array of user-friendly features, the UV-1800 can beused either as a stand-alone instrument or as a PC-controlledinstrument.
High resolution – 1 nm
Featuring the highest resolution in its class*, the UV-1800easily satisfies the standards of wavelength resolutiondemanded by the European Pharmacopoeia.
Additionally, using a spectroscope with a Czerny-Turnermounting results in a compact, bright optical system. Straylight, wavelength repeatability and baseline stability have alsobeen advanced to meet user requirements.
*As of March 2007, according to Shimadzu research.
Space-saving design
Only 450 mm wide, the UV-1800 is one of themost compact instruments in its class, allowinginstallation in tight spaces. In comparison to theUV-1700, the setting space has decreased by about15%, and the width has narrowed by about 20%.
User friendly
USB memory can be connected directly to the UV-1800. Users can now analyze data on a PC using UVProbe software. In addition, data for spectra and time-course curves can be displayed and saved with commercial spreadsheet software. Printing is possible to printers that support PCL control codes.
e.g. HP Business Inkjet 1200
HP Photosmart D5160
Using UVProbe software, provided as standard, makes it possible to control the UV-1800 with a PC. (A USB cable is required for connection to the PC.)
This page may contain references to products that are not available in your country.
Please contact us to check the availability of these products in your country.