Software Compliant with FDA 21 CFR Part 11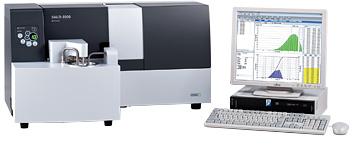 WingSALD II software for the SALD-2300 laser diffraction particle size analyzer now provides compliance with FDA 21 CFR Part 11. Adopting WingSALD II software and the Shimadzu CLASS-Agent network-compatible data analysis management tool enables compliance with the security, data integrity, and audit trail requirements specified by FDA 21 CFR Part 11.
SALD-2300 Software Now Offers Compliance with FDA 21 CFR Part 11
Security
Users are managed on the basis of groups, with each user being recognized by means of a username and password. Unique groups can be created by including persons having different access privileges. Clearly defining each user's access privileges prevents unauthorized changes to settings, instrument operation, and data access.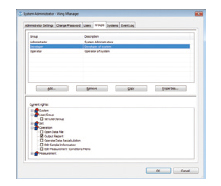 Data Integrity
The measurement results and the accompanying measurement conditions are together automatically registered in the database. Once stored in the database, the data can no longer be deleted or overwritten, thus protecting the integrity of the data. Additionally, the stored data can be viewed in a list and searched.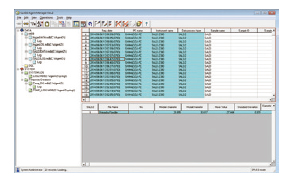 Audit Trail
Records all operations performed, including logins and logouts to the system, changes in users and groups, and measurement start and completion, together with the username and the time. The recorded operational log can be registered in the database, and the history of the instrument running conditions and setting changes provides for traceability.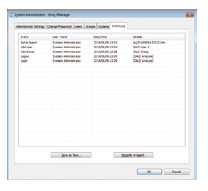 Software Validation
In order to verify that no alterations have been made, alteration checking software is provided with the WingSALD II software. Moreover, an analysis can be carried out using sample data supplied on the installation CD-ROM.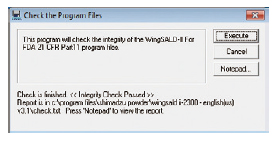 Supports Both Network and Stand-Alone Systems
CLASS-Agent, which supports network operations, allows centralized management on a server PC, so particle size distribution data can be combined with data from other analysis instruments and retrieved or approved in the comfort of a remote office. (In order to retrieve and approve data, Agent Manager software is needed.) Since it supports stand-alone systems, compliance with 21 CFR Part 11 can be realized with one particle size analyzer and one PC.
Network System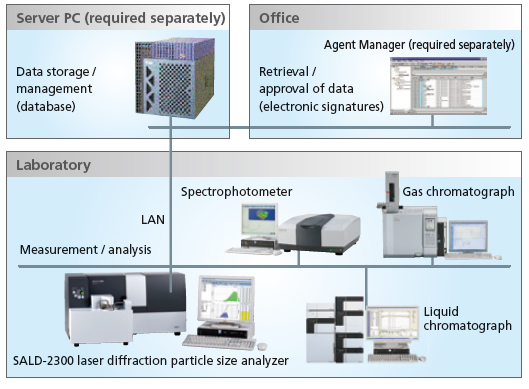 How Data Is Registered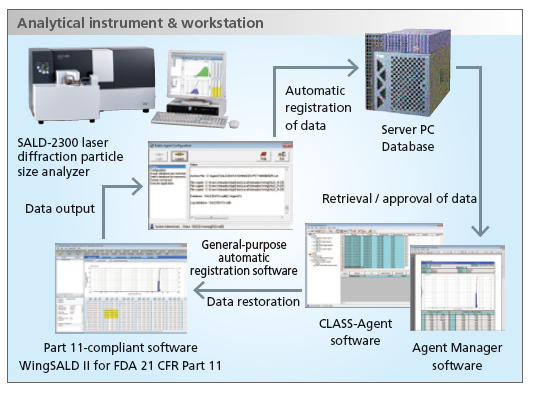 Specifications
PC Requirements

The software is included standard on a CD-R with the SALD system (optical system).
Install the software on a PC that meets the following specifications.
| | |
| --- | --- |
| OS | Windows 7 |
| CPU | Pentium Dual-Core 2.5GHz min. |
| MEMORY | 2GB min. |
| HDD | Min 1 GB of free space required. |
| CD-ROM Drive | Required for software installation |
| USB Port | 1 port |
| Display | SXGA (1280×1024 pixels) min. |
Other Required Items
CLASS-Public Agent Ver. 2
For Research Use Only. Not for use in diagnostic procedures.
This page may contain references to products that are not available in your country.
Please contact us to check the availability of these products in your country.